You would've noticed how the number of available places at your setting gets automatically updated on your booking platform every day. Our system does this like a little elf to help cut down your workload. But did you know you have the option to block or unblock spaces, too – manually?
You can easily slash the number of available spaces if – for example, you'd like to reserve a few places or don't have enough staff to meet the ratios.
Let's see how.
Block or Unblock Spaces
The 'block and unblock' feature in your occupancy planner will help you retain control of the number of available slots you'd like to display to your customers – without having to tamper with the 'maximum capacity' or 'staff-children' ratio you've set for each room.
There are two ways you can go about blocking/unblocking spaces:
Individual blocking of slots
This is ideal if you are looking to amend places for a day or two.
Go to your occupancy planner.

Select the 'class' and 'day' for which you'd like to block the places.

Click and drag on 'Session Blocked' to select the required hours.

Enter the number of places you want to block, and it's done!

Bulk blocking
This is the more convenient option if you want to block off sessions for more than a few days. All you need to do is select the edit option in the top right corner of your occupancy planner.

Select the class, dates and number of places. Update. And that's it!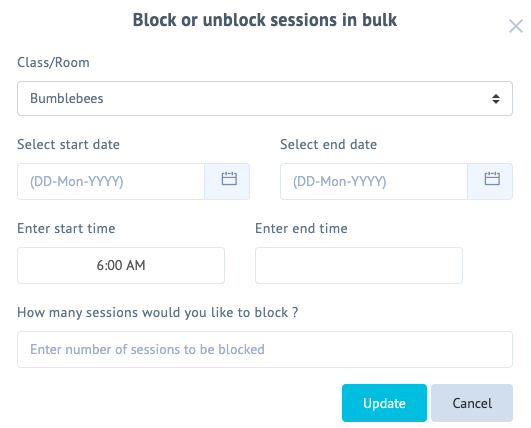 Unblocking Slots
Now, want to open up a few or all of the sessions you blocked off? Simply follow the steps above and change the number of sessions to be blocked to zero. The places are up for grabs again!
So, that's about it for today, folks!:) Thank you for checking our latest ProTip edition. We'll be back next week with another quick tip to help you get the best out of Cheqdin.
Was this article helpful?
That's Great!
Thank you for your feedback
Sorry! We couldn't be helpful
Thank you for your feedback
Feedback sent
We appreciate your effort and will try to fix the article